No wonder they say that our language is a melodious one. «Your soul will ease as the song comes into the heart», «He who sings, drives the sorrow away» – this way is said in folk culture about Ukrainian song. Olga LINYK, the founder of the Charitable Foundation «Yaryna», told us about power of the Ukrainian singing culture, which unites passionate hearts.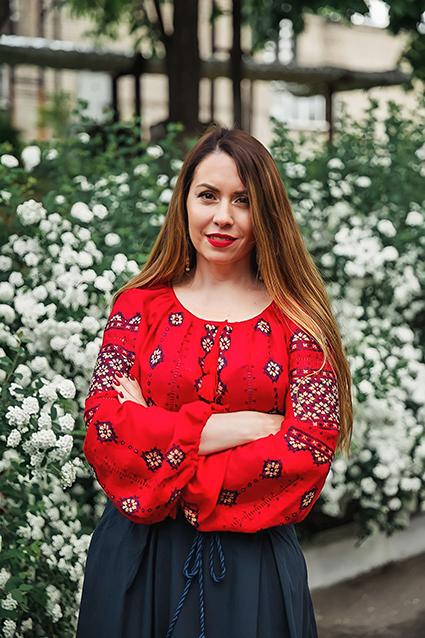 – Olha, good afternoon! Please tell us about yourself.
– My professional path was connected with foreign trade activity. I have worked for international companies, at managing positions like in a German company produces medical goods and a Ukrainian startup for the 3D-printers production used for printing with metal powder. Also I have experience of working in the family business, then I started my own creative project for Ukrainian musical culture and finally I founded Charitable Foundation «Yaryna» in April 2022.
– As I see, your activity example proves that there are no obstacles to achieve the exact goal! What do you do to maintain vital energy?
– The answer to this question, surprisingly, was given to me by the war. I do not like common and cocky phrases, but when first refugees started arriving in Dnipro city, I was convinced that my place is near these people bringing all the possible aid for them.
At first it was such a workable way to avoid anxiety and to be distracted through the action. I joined a group of volunteers and realized that my life energy comes through interaction with people surround me helping others who need it. I have to be constantly among the people and my team, otherwise I even start getting sick and dizzy. There are also some hobbies which support my vital energy like music, vocal singing, yoga.
– Recently you organised a charity event of Ukrainian musical culture. Please tell us a bit about that event.
– Achievements of our culture is a real source of life power and recovery in difficult times. Ukrainian songs have always inspired the Cossacks warriors, accompanied Ukrainians within every period of life. UNESCO has included Ukrainian Cossack songs in the list of intangible world cultural heritage. We are the owners of the cultural treasures that we must inherit to achieve a respectable purpose.
The event took place in the hospitable location of Creative States of Dnipro under the slogan: «Ukraine is invincible, because we won't give up singing». The idea was to gather people who respect Ukrainian music culture and create a sort of networking for volunteers. I tried to provide all the conditions and give volunteers the opportunity to communicate, relax, share experience and gains, exchange contacts.
In the evening, Ukrainian songs, both modern and folk, were played to the bandura (Anastasia Bashmakova), flute (Yana Salnik), trumpet (Serhiy Gornak), guitar (soloist of band «Nera» Svitlana Lagutina). Besides, everyone had the opportunity to perform their favourite songs under backing track or karaoke. There was also a performance by beatboxer Alexander Doroshenko. A photo exhibition of works by famous photographer Hera Gubanov took place during the event. I have to especially highlight our constant event leader Marina Oleksienko, who has been raising funds to help the Armed Forces of Ukraine since the first days of the war. Thanks to Anton Sadykov and World Central Kitchen for their incredible support while organizing the event – from the very beginning of the war, the company has been supplying Ukrainian refugees with food sets and feeding everyone in need. During the event we raised funds for producing cover bags for military first aid kits.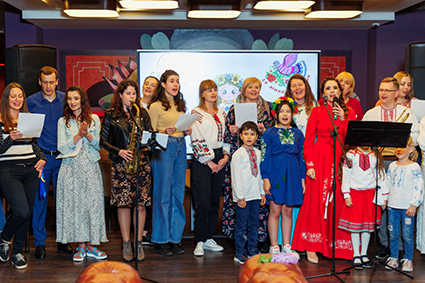 – What projects do you plan to arrange in the nearest future?
– I have four priority scopes:
1. I plan continuing the medical area: fundraising for first aid kits, assistance in the health recovery for our soldiers.
2. I plan helping refugees, this is the first project implemented by the «Yaryna» Foundation. Last month, with the support of the Rotary Club of Offenburg city (Germany), we arranged evacuation of a group of women with children to Germany as a part of the evacuation program (the refugees were provided with separate housing). They were accompanied by a cancer patient who is currently receiving medical treatment there.
3. I also plan aiding children.
4. Arranging events related to Ukrainian song culture on a regular basis.
– Olha, what would you like to wish to our readers?
– We now have the only one sincere wish for everyone in Ukraine – to gain a victory for Ukraine as soon as possible!